Forland is looking for an intern !!
How to mobilize local actors through digital solutions for land use planning?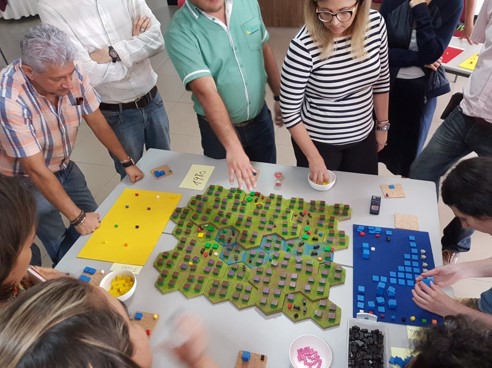 Using role play games for stakeholder engagement in Paragominas, Brazil
The stakeholder engagement part is key in Forland process. 3 academic and technical partners (ETH Zurich, University of Edinburgh and Forest Research) have defined the implementation methodology in an innovation project called Forland Restoration that began in August 2018. This methodology has been tested in several pilot sites in Scotland and 2 sites in Brazil. The first semester of 2020 will be dedicated to the finalization and reconciliation of the various field returns as well as to the improvement of the platform for a better dialogue between technology and the social science approach.
This internship will support this closing phase on 3 ways : research, project management and dissemination of results.
Missions
– Deepening the challenges of stakeholder engagement in the restoration of degraded forest lands (70%): collaboration with the Swiss and Scottish partners of the Forland Restoration consortium to write a report on the interaction between digital issues and stakeholder involvement for the long-term implementation of sustainable territorial strategies.
– project management (10%): support to the Forland project coordinator in project management (preparation of technical and financial reporting),
– communication (20%): popularization of scientific approaches through the writing of articles and support for the organization of the kick-off event.
Terms and Conditions
The internship will be full-time from January to June 2020.
The trainee will receive the legal compensation as well as tickets restaurants.
Please send your application to: solene.gasnier@onfinternational.org